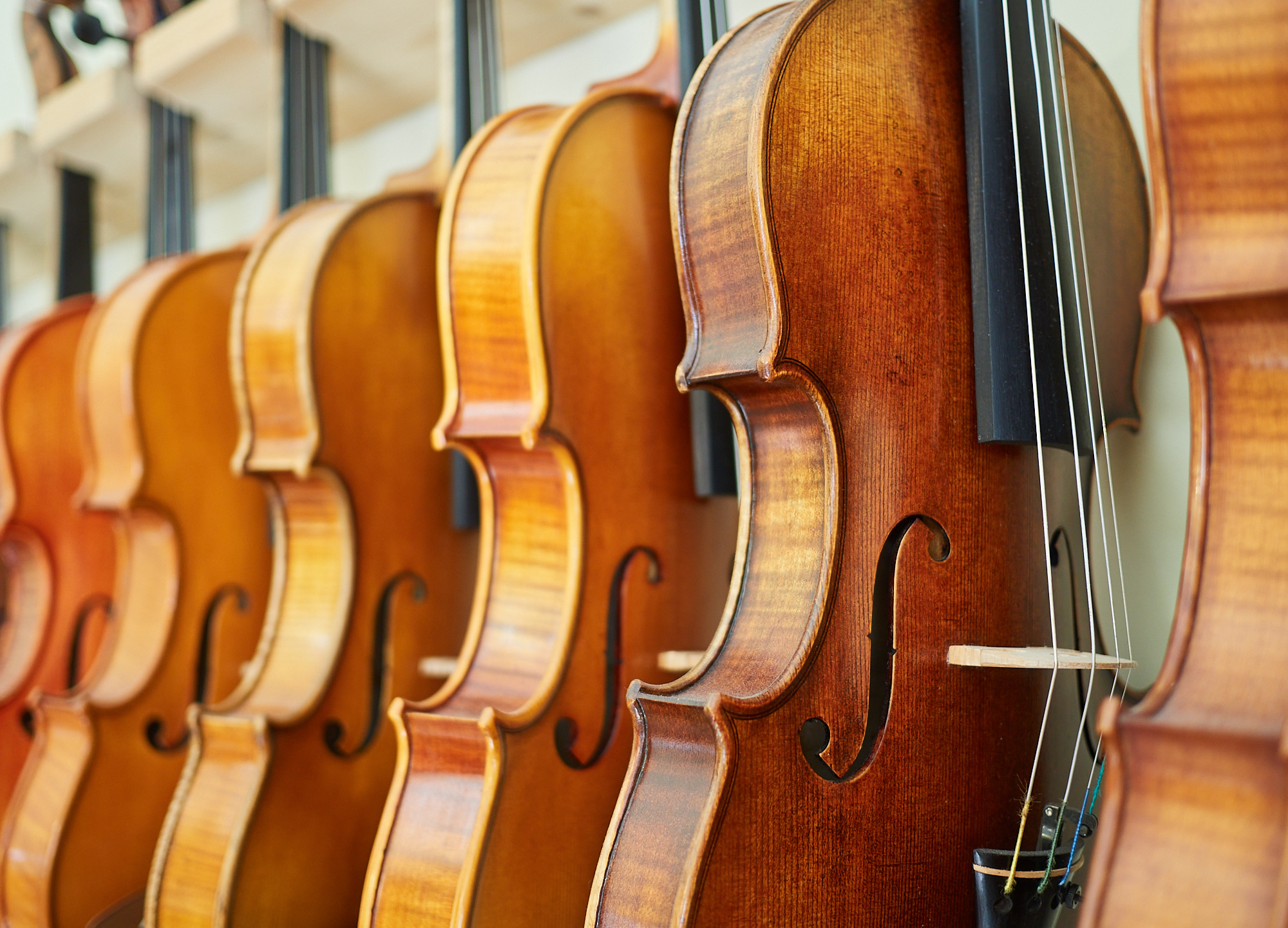 Instruments for Sale
Here are some examples of the instruments that we have available for sale.
We stock a number of our own professional level new, hand-crafted instruments, superb value beginner instruments, as well a selection of fine older instruments.
Please feel free to get in touch about pricing.
There is also a range of intermediate to semi-professional level instruments available for purchase or hire on our sister site:
stringinstrumentshire.com
VIOLINS – SMALL VIOLINS – VIOLAS – CELLOS
---
Violins
---
Copy of Giuseppe Guarneri del Gesù Violin
by Alan Williams
£10,000
---
Violin based on the Old Italian Style
by Dota Williams
£7500
---
New Violin based on Stradivari design
by Dota Williams
£7000
---
Old French Violin
Labelled 1830
£1200
This beautiful old French violin with a one piece back is suited to the intermediate to advanced player. It has undergone extensive refurbishment in our workshop including new ebony pegs, integrated tailpiece, new soundpost, bridge, chinrest and high quality Larsen original strings.
This is an instrument that won't disappoint!
---
Old German Violin
£575
This attractive old German violin, known as a Maidstone brand was imported into the UK by the Murdoch company,. c.1900. We have fully refurbished it with new ebony pegs, integrated tailpiece, new soundpost, bridge, chinrest and prelude D'Addario strings.
This lovely sounding violin is suited to an intermediate player or musical beginner looking for an instrument that will totally encourage you in your musical journey!
---
Violin based on Stradivari design
Earlier example by Dota Williams
£5000
---
New Baroque Violin in the style of Stradivari
by Dota Williams
£7000 (inc. case & Baroque Bow)
---
Old English Baroque Violin
Forster School (Original Back, Neck & possibly Pegs – Replacement Antique Front and Ribs)
£4500
---
Fine Old French Violin
Unlabelled
£4500
---
Small Sized Violins
1/2 sized New Violin based on Old Italian designs
by Alan Williams
£4000 inc. case, bow & handmade rosin
This high quality beautiful half size violin was recently hand made in our workshop by Alan Williams using superb and well seasoned European tone wood and fittings.
It has been made with a talented and gifted musician in mind and is part of our Handmade Range; built to last generations and inspire young gifted musicians by creating an instrument that will do so much more than your average small size instrument.

---
3/4 sized New Violin based on a design by Stradivari
jointly made by Alan & Dota Williams
£5500 inc. case, bow & handmade rosin
A superb, large sounding instrument hand made in our workshop by Alan and Dota taking inspiration from Stradivari's design. This model is designed with younger (or indeed smaller framed) players in mind. Maximising the potential vibrating air space and generally giving a powerful sound, it's tonal palette also offers the player a rich variety of colours.
---
Primavera 90 Violin (Entry Level Instrument)
Fully Setup for Easy Playing.
1/2 & 1/4 Size In Stock – other sizes available to order.
£125 inc. case & bow (string upgrades available)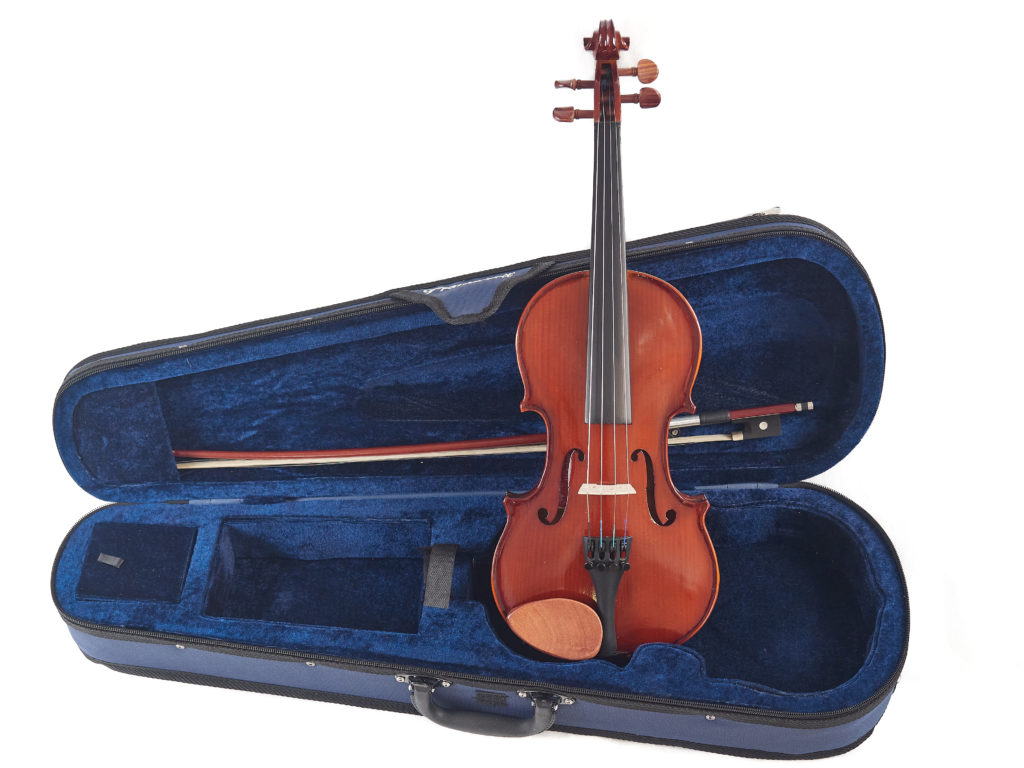 ---
Violas
---
16.25″ Viola, custom design after various influences
by Dota Williams
£7250
---
15.6″ English Viola – 1931
by Arthur Richardson
£6000
---
16.5″ English Viola – 1997
by Stephen Robinson
£6500
---
Cellos
---
Primavera 100 cello outfit
Complete with soft case, bow & rosin. Setup by Resonant Strings
£722
This full size cello comes with a soft case, bow and rosin. It is an excellent cello for beginner-intermediate players.
It has been adjusted in our workshop to make the set up far more comfortable for ease of playing and upgraded with prelude D'Addario strings for that extra warmer sound
---
New, Good Quality Student Cello
Workshop Cello – Setup by Resonant Strings
£1900
---
– Recently Sold –
German Cello – 1994
by Franz Sandner
Sold
---
Antique European Violin
Unlabelled
Sold
---
Czech Antique Violin
labelled "David Techler in Prag"
Sold
This attractive looking full size violin was previously played by a professional violinist throughout his studies at music college and beyond.
He no longer needs this instrument as he has since commissioned and received a bespoke handmade instrument from our workshop.
It is complete with good quality fittings and strings.
We would accept trade-in on this instrument in the future towards one of our handmade range.
---
---